UCD host After Empire, a public discussion with former leaders of  former British colonies who share Ireland's experience of transition to independence.
The speakers are:
Thabo Mbeki, African National Congress, President of South Africa, 1999-2008 and  Deputy President 1994-99;
Watch an interview with Thabo Mbeki and Dr Conor Mulvagh, UCD School of History
Benjamin Mkapa, Revolutionary State Party: President of Tanzania 1995-2005, Minister for Science, Technology and Higher Education 1992-95;
Watch an interview with Benjamin Mkapa and Dr Conor Mulvagh, UCD School of History
Salman Khurshid, Indian National Congress Party, Minister of External Affairs  India 2012-14 and Minister of Law and Justice, 2011-12.
Watch an interview with Salman Khurshid and Dr Conor Mulvagh, UCD School of History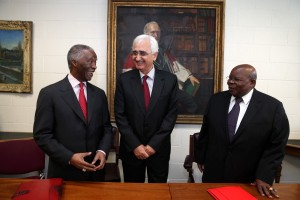 Pictured at the After Empire: Leaders Discussion – student seminar were (l-r): His Excellency Thabo Mbeki, former President of South Africa; Salman Khurshid, former Minister of Laws and Minster of External Affairs of India and His Excellency Benjamin Mkapa, former President of Tanzania

Despite taking different paths towards independence, and doing so in different eras and circumstances, these states share much common history which has shaped their place in the modern world.
A key element of commemorating Ireland's exit from empire is to integrate the Irish experience with that of other states that have encountered many similar issues but who have also done things differently.
Participation in international organisations from the British Commonwealth to the United Nations is just one way in which modern, post-imperial nations have taken different paths to achieving autonomy without isolation.
Bringing together politicians who were central to the later evolution of these policies this promises to be an enlightening and lively evening.
The event will be moderated by former President of UCD, Dr Art Cosgrove, with contribution by President of the Royal Irish Academy, Professor Mary Daly.